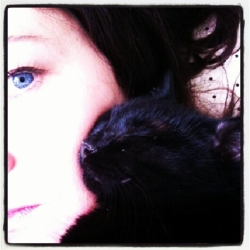 Hello !
I am Véro Pinson, the founding creator of Sacôtin.
Born in the 1970s, I am a true product of the decade : I love discovering, meeting, sharing, playing, creating; I am an eternal adolescent, a fan of sci-fi, mysteries and role-playing games. And I'll say it loud and proud : I am a geek !
After studying communication and language science, my course in life took me from my birth region of Provence to the United States (Washington DC : Hi to the Hughes !), then to England (Brighton), before returning to Provence, where I now live with my significant other and our daughter.
It was through LARP (Live Action Role Playing game) that I discovered sewing… Actually, no, it was through my grandmothers that I really discovered sewing : one of my grandmothers, Suzon, was a professional seamstress, and the other, Antoinette, sewed, knitted or crocheted all day long. However, it was through LARP that I really got interested in sewing. I started with a sheet, a needle and some thread, to create a pseudo-medieval dress, a bag and a cloak… 3 months later I had invested in a sewing machine and was busy making my first coat. To my great regret, neither of my grandmothers was still with us when my love for the art of sewing blossomed ; I would have loved to have chatted to them about our shared passion.
Some years later, my love for sewing is as strong as ever. I started my blog, Couture Stuff, and then the free French directory of sewing patterns and tutorials, Pop Couture, in 2012. Since 2013, I have been working half-time at my tech support job in order to get Sacôtin up and running.
About Sacôtin bag patterns
I create bags that I would like myself and, having very eclectic taste in bags, you will find a great diversity of patterns. For me, bags are the ultimate accessory, the most enjoyable, the accessory that really shows your personality, that allows you to play with styles, to add a touch of fantasy, to have fun and treat yourself. And, because a bag is useful for carrying around all your bits and bobs, it also needs to be practical!
About Sacôtin pattern instructions
I write the instructions just as I would like to read them myself : I put myself in your shoes. I want clear, illustrated instructions that lead me step by step; thus they are something to which I pay particular attention.
About the others
I've been fortunate enough to have the support and encouragement of many people and it is only right that I thank them here for the part they have played in getting Sacôtin off the ground.
♥ Camille Gazet, visual creator for Sacôtin.
♥ Sophie Corrotte and Nathalie Jammes for trying out the patterns.
♥ Isabelle Remande, proofreader and revisor of the French instructions.
♥ Velosewer (Maria Theoharous), proofreader and revisor of the English instructions.
♥ Fred, Sandrine, Orlane, Marie-Agnès and Carine who willingly played the role of mannequin.
♥ Thank you to everyone who has supported me, both through subscription to the newsletter and encouragement via my Facebook page.
♥Thank you also to all those who have given their support by following me for so long on Couture Stuff.
Save
Save