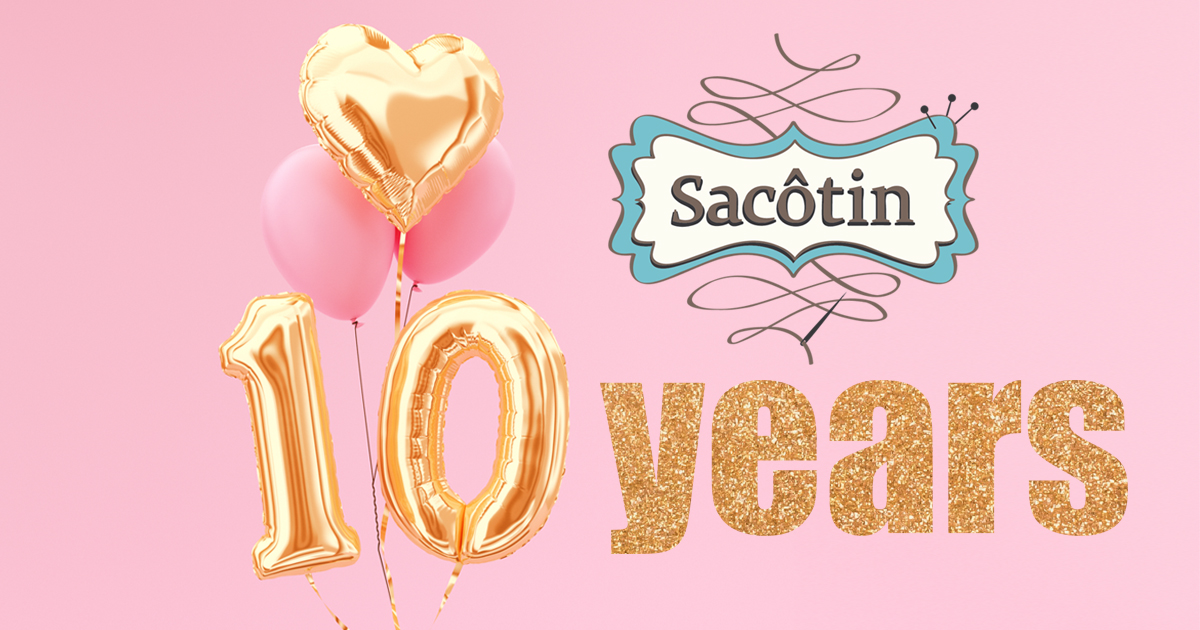 It's been 10 years since I created Sacôtin and launched my first pattern on May 15, 2013!
10 years and Sacôtin is still here, thanks to you, loyal customers! Because without you I would be busy with something else today than preparing the launch of the 45th Sacôtin pattern for June 2023 🙂
10 years during which I had the chance to build relationships with you. Being able to admire your bags and discuss with you in the Sacôtin Addicts group is a daily pleasure. And in 10 years, I've pinned more than 17,000 of your creations on the Sacôtin's Pinterest boards! Thanks to the group Moderators : Manu, Amélie, Cyrielle, Eve, Nicole, et Rozenn. Thanks also to Mathilde P. for managing the swaps.
10 years during which I have been accompanied by a team of wonderful testers, some of whom have been present since the very first year! Thanks to each of the current and past testers for contributing to the quality of the Sacôtin patterns: Sophie, Nathalie, Laurianne, Camille, O'Kryn, Marie P. (les 2), Cyrielle D., Cyrielle L., Sandrine, Babette, Chantal, Virginie, Caro, Dado, Edith (Lilou), Nicole, Manu, Rozenn, Evelyne, Anne N., Anne B., Guylaine, Laurence, Marion, Julia, Marina, Annie, Amélie.
Thanks to Madame Zaza and Maria from Sew Organized Style Podcast for their respective proofreading of the patterns in French and English since 2013!
Thanks to the Sacôtin models who allow me to show you the size of the bags in a more telling way since 2013: Carine, Camille, Céline, Marie-Agnès, Matthieu, Fredérique, Orlane, Siloë, Samicha, Eléa, Sandra.
Thanks to Laurence from La Mercerie des Créateurs, to whom I proposed 9 years ago to create and sell supply kits for Sacôtin patterns and who has since been a partner everyone would dream.
Special mention for Camille Gazet, already thanked among the testers and the models, who is also the graphic designer who created the Sacôtin logo 10 years ago, and who now manages the publication of the photo montages of your creations on the Facebook page.
10 years and it's still the same desire to offer the best instructions that I can that drives me. I continue to write and illustrate the instructions by putting myself in your shoes, and doing my best, always
Thank you for these 10 years, and to the years to come!
Véro Pinson
PS : To celebrate this 10th year there is 20% off all patterns until Thursday May 18th 2023 included (no code needed – French time).
Those who follow Sacôtin know this is exceptional, the last sale dating from 4 years ago.
And for those who have all the sacôtin patterns already, first thank you for everything, and I don't forget about you and I'm preparing a little surprise for June 💗.