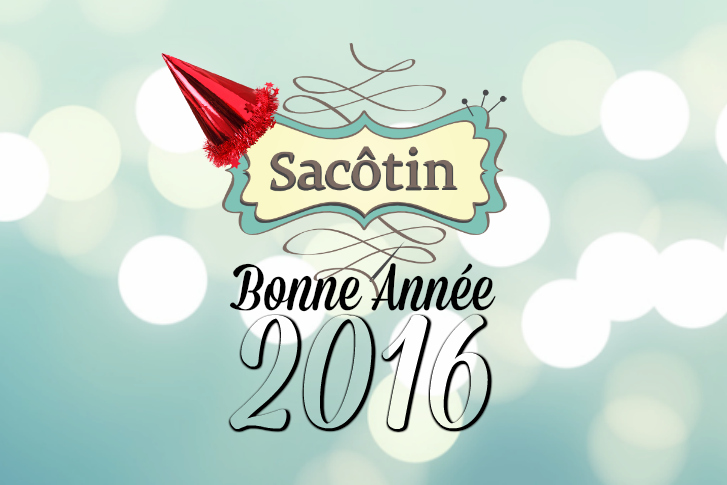 Thank you.
Sacôtin continues to grow because of you. Thanks also to La Mercerie des Créateurs, to the testers and proofreaders. I could not do it without you !
Coming up in 2016
A new pattern will come out in February, it is currently being tested by the Dream Team.
As for the rest, I want to go forward serenely because I'm running a marathon here, not a sprint. Especially since my working time is still divided between Sacôtin and my regular office job.
Going forward serenely means taking the time to revisit some of the old patterns to update them rather than releasing new ones.
Going forward serenely, is also treating you with the occasional free pattern. This is what I've already done last November, when I released Cachôtin rather than a 4th paying pattern for 2015 … And I really want to repeat it in 2016 🙂
A giveaway to start the new year !
We might as well start 2016 smiling and playing!
To win the February 2016 pattern, at its launch, answer the following question in the comments of this French blog post : Voeux et Jeu
Which were,
in order

, the three bestseller Sacôtin patterns of 2015?

Excluding free patterns !

Your answer must look like this :
Bestseller Sacôtin pattern of 2015
2nd most sold Sacôtin pattern of 2015
3rd most sold Sacôtin pattern of 2015
3 winners will be drawn from the right answers in the comments of the French blog post : Voeux et Jeu.
Winners will be announced January 13, 2016.
Happy new year to you and all your loved ones,
health, happiness and serenity!
Véro
Aussi sur le blogôtin ~ Also on the Blogôtin :